Falcon Age coming to PC this summer
PC version to ship with new content.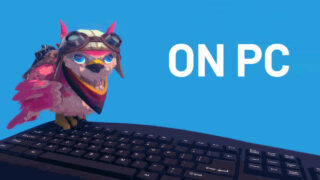 Falcon Age is coming to PC via the Epic Games Store this summer, developer Outerloop Games announced.
The game, which is playable in both virtual reality and non-virtual reality, first launched for PlayStation 4 with PlayStation VR support in April.
The PC version will support Oculus Rift, Rift S, HTC Vive, and Valve Index, as well as ship with new content including a new combat and balance pass, bird skins, and overall quality of life improvements.
Here is an overview of the game, via Outerloop Games:
About

In this first-person single-player action adventure, players will take on the role of Ara and learn to hunt, gather, and fight to reclaim her cultural legacy in the lost art of falcon hunting against a force of automated colonizers.

The game starts on a dying colony planet with its culture destroyed, resourced depleted, and turned into a desert by machine invaders. Ara's been wrongfully thrown in jail for a minor infraction. While she awaits her fate in a lonely cell, she passes the time by befriending a young falcon. Together they escape and set off on an adventure to help the resistance reclaim their freedom and drive off the invaders.

Key Features

Take back your life: Rebel against robot colonizers and reclaim your culture.
Bond with a bird companion: Name, pet, feed, teach, and dress up your falcon.
Hunt with your falcon: Various animals roam the land and can be hunted for precious materials.
Craft falcon snacks: Farm, hunt, and cook snacks to feed, buff, heal and strengthen your falcon.
Accessorize your falcon: Make your falcon look dreamy with different hats and scarves. -also equipment for gameplay like sonar and armor.
Fight robot colonizers: Use your trusty stun baton to fight off drones and robots with the help of your falcon.
Watch the PC announcement trailer below.