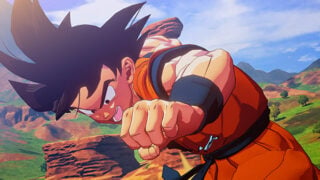 Dragon Ball Z: Kakarot, previously known as Dragon Ball Game Project Z, will launch for PlayStation 4, Xbox One, and PC in early 2020, publisher Bandai Namco and developer CyberConnect2 announced during the Microsoft E3 2019 press conference. It will include English and Japanese voice-overs, and English, French, Italian, German, Spanish, Russian, Polish and Arabic subtitles.
Here is an overview of the game, via Bandai Namco:
Dragon Ball Z: Kakarot is an all-new action RPG (role-playing-game) that will take players on the most accurate, dramatic, and epic telling of the Dragon Ball Z canon storyline—the story of Kakarot—the Saiyan better known as Goku.

Developed in Japan by video game developer CyberConnect2; the game tells the legendary story of Dragon Ball Z, taking players on an unforgettable adventure to experience over-the-top battles and challenging quests while creating life-long friendships as they crusade to protect Earth from fearsome villains. Additionally, Dragon Ball Z: Kakarot will also present resolutions to long unanswered questions from the Dragon Ball Z storyline through light-hearted side quests.
And here is the official fact sheet:
About

Relive the story of Goku in Dragon Ball Z: Kakarot! Beyond the epic battles, experience life in the Dragon Ball Z world as you fight, fish, eat, and train with Goku. Explore the new areas and adventures as you advance through the story and form powerful bonds with other heroes from the Dragon Ball Z universe.

Key Features

Experience the story of Dragon Ball Z from epic events to light-hearted side quests, including never-before-seen story moments that answer some burning questions of Dragon Ball lore for the first time!
Play through iconic Dragon Ball Z battles on a scale unlike any other. Fight across vast battlefields with destructible environments and experience epic boss battles that will test the limits of your combat abilities. Increase your power level and rise to the challenge!
Don't just fight as Goku. Live as Goku. Fish, flfly, eat, train, and battle your way through the Dragon Ball Z sagas, making friends and building relationships with a massive cast of Dragon Ball characters.
Watch a new trailer below. View a new set of screenshots at the gallery.