Alternate Jake Hunter: Daedalus The Awakening of Golden Jazz for PC launches July 4
Demo available now.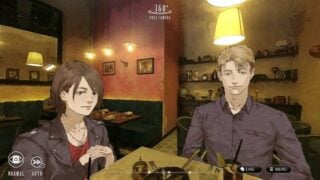 The PC version of Alternate Jake Hunter: Daedalus The Awakening of Golden Jazz will launch for PC via Steam on July 4, publisher Arc System Works and developer Neilo announced. A demo is available now.
The game, a prequel to the Jake Hunter Detective Story series, first launched for PlayStation 4 and Switch in December 2018 in Japan, and digitally in May 2019 in the west.
Here is an overview of the game, via its Steam page:
About

The latest addition of the Detective Saburo Jinguji series, a hard-boiled adventure series that boasts a 30 year history. The adventure will intrigue newcomers, and delight long time fans. Jinguji's adolescence is explored in this never before told origin story!

Story

That was one month ago today.

Someone has murdered Saburo's grandfather, Kyosuke, while he was living in New York.

Saburo sets off to New York to sort through the belongings and memories his grandfather left behind.

The nostalgia of the cityscape and reunions with old friends is fleeting, however. He soon discovers that his grandfather's last word was, "Daedalus."

What does it mean? Why was my grandfather killed?

"Remember, Saburo: tend the orchard of your mind."

Kyosuke's words and teachings on the art of thinking are just distant memories.

And yet, young Jinguji Saburo who is alone in the world, takes up the gauntlet for himself and for his late grandfather!

Key Features

Explore in 360 Degrees – Experience the realistic feeling of standing in the same place as the character while searching for clues. Uncover hints that can only be found through their POV.
The Orchard of Your Mind – The Orchard of Your Mindis where Jinguji can visualize his thoughts. It grows larger when information is collected, bearing fruit which leads to solving the mystery.
Changing Your Stance – Jinguji can activate a Stance Change if he has a deep conversation with someone during his search. The other character's attitude and behavior will change depending on his Stance allowing him to gather useful information.