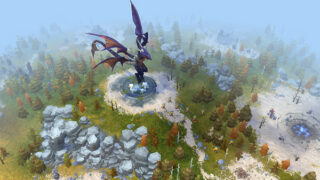 Viking-themed real-time strategy game Northgard, which first launched for PC in March 2018, is coming to PlayStation 4, Xbox One, and Switch in 2019, developer Shiro Games announced.
"We are very happy to reveal we are bringing Northgard to all three consoles later this year," said Shiro Games CEO and co-founder Sebastien Vidal in a press release. "We have worked hard to optimize Northgard for the controller and to be played on the go in the Switch version. All the content of the original version will be available at launch. This includes the campaign mode, multiplayer, all six clans and much more!"
Here is an overview of the game, via Shiro Games:
Steeped in Norse mythology, Northgard allows players to control a Viking clan exploring and settling new territories filled with untold riches while fighting off hordes of magical foes, including dire wolves, undead warriors, giants, and dragons. To make history and bring both fame and fortune to their clan, players must carefully manage resources, trade with rival clans, befriend or vanquish mythical creatures, survive harsh winters, and conquer unforgiving lands.

Northgard's console versions feature all the content found in the base Steam release, including the major Relics and Ragnarok updates: six clans, a lengthy campaign, co-operative and competitive online modes across a variety of maps featuring the apocalyptic-themed Ragnarok, ranked play, and much more. Shiro Games has crafted a controller layout that makes playing feel effortless, revamping the experience with a completely new user interface.

Originally released via Steam Early Access on February 22, 2017, Northgard quickly rose to become one of the most popular strategy games on the platform, selling more than 1 million copies. The game officially launched out of Early Access on March 7, 2018, and was one of the highest-rated PC strategy titles released that year, garnering a Metascore of 80.
Watch a trailer for the console versions below.