Tsuri Spirits: Nintendo Switch Version debut trailer, details
Switch version of arcade fishing game launches July 25 in Japan.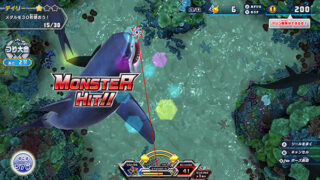 Bandai Namco has released the debut trailer and opened the official Japanese website for Tsuri Spirits: Nintendo Switch Version, its newly announced Switch adaption of the arcade fishing game.
Here is an overview of the game, via its official website:
What is Tsuri Spirits?

Tsuri Spirits is a fishing medal game popular at arcades all over Japan where you use medals, choose a rod, and fish to get medals.

Attractions are currently also available at Huis Ten Bosch, Nanja Town, and Nagashima Spa Land.

Play Alone or With Everyone, Anywhere and Anytime

Hold the pair of Joy-Cons like you would hold a fishing rod
Or play with up to four players with each player using one Joy-Con

Holding the Joy-Cons like a Rod

Cast Your Float – Swing the left Joy-Con to cast your float.
Reel In Your Line – Rotate the right Joy-Con in circles to reel in your line.
Catch the Fish – When you catch a fish, the Joy-Con will rumble to indicate the force of the fish.

It should be noted that you can play Tsuri Spirits: Nintendo Switch Version with two Joy-Cons or a single Joy-Con held vertically, but it cannot be played in Handheld Mode or with a single Joy-Con held horizontally.

Three Game Modes

Medal Mode – Play the Tsuri Spirits you know from Japanese arcades. Catch fish to get medals. Up to two players can play together. The medals you save up can be used to develop machines. And the fish you catch are explained in detail in the Fish Encyclopedia.
Adventure Mode – A single-player mode where you go on an adventure with the Kappa Brothers to capture the big ones. Guard and parry against fish attacks with original rules to enjoy fishing actions. By collecting the materials you get from catching fish, you can build rods and increase your fishing strength. Countless new big ones will also appear.
Tournament Mode – Play with up to four players, where everyone uses a single Joy-Con. With three different rule sets, anyone can enjoy playing. You can even activate special moves.

Other Features

Fish you have yet to see! Big ones! Fish for all sorts of sea life! Over 250 types of fish will appear. There are a lot of original new fish for the Switch version, as well!
Tsuri Spirits: Nintendo Switch Version is due out for Switch on July 25 in Japan for 5,700 yen.
Watch the trailer below.