Sengoku Basara: Battle Party debut trailer
Sengoku Basara smartphone game due out in June in Japan.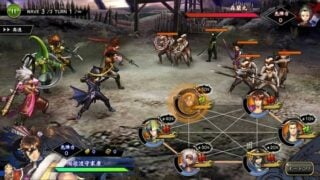 Capcom has released the first trailer for its newly announced Sengoku Basara smartphone game Sengoku Basara: Battle Party.
Here is an overview of the game, via Capcom:
About

Sengoku Basara finally debuts on smartphones! Aim for the top of the Sengoku! Warlords from across the series will appear. Gather up your favorites and create your very own warlords unit. Mow down enemies with simple controls, create your own unit, and aim for the unification of Japan!

Game System

Battle – The "War Bonds Battle System" increases your attack power as you connect warlords. Build up your gauge to activate ultra-impact Basara Skills for each warlord. There are also handy features like auto-play and acceleration. Mow down enemies with simple controls!
Story – The Sengoku era of rivaling warlords. Become a daimyo and take the first step toward ruling the country. The voice cast makes the story for this game even more exciting! Voices have been newly recorded. The conversational exchanges between warlords that resemble past titles are a must-see!
Training – Gather up warlords and develop your very own unit. Thoroughly train your favorites!
Unit Formation – Examine the characteristics of each warlord and form your unit. Create all sorts of formations, from a preemptive strike formation to a protect-and-turnabout formation. Create the strongest team with your favorite warlords!
Communication – Enjoy the game with friends through chat and more!
Ranking – Carve your name in Sengoku Basara: Battle Party history through all sorts of rankings!
Sengoku Basara: Battle Party is due out for iOS and Android devices in June in Japan.
Watch the trailer below.