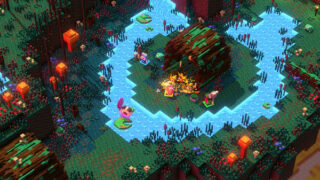 Voxel world-set frantic co-op hack and slash title Riverbond will launch for PlayStation 4, Xbox One, and PC via Steam this summer, developer Cococucumber announced.
Here is an overview of the game, via its Steam page:
About

Riverbond is a fun and frantic couch co-op adventure game for 1 to 4 players set in a stunning voxel world. Embark on a heroic journey to complete missions, battle adorable enemies, and smash everything into tiny cubes! Will you and your friends be the legendary heroes of Riverbond?

Key Features

Weapons! Combat! Bosses! Find a ton of melee and ranged weapons in hidden chests and swap them out to suit your play style to defeat enemies and bosses.
Objectives! Each map will challenge you with an objective. Complete this, and you're on your way to becoming the champ!
Play alone or with Friends! Riverbond is fully playable in single-player or with up to 4 players in a drop-in/out couch co-op.
Destructible Cubic World! Did we mention that you can slash, smash and generally wreak havoc to the charming voxel environments? Go nuts if you want to and experience the awesomeness of real-time physics.

Who knows what you will find when you explore the depths of Riverbond—there's only one way to find out. Cue epic adventure music!
Riverbond features eight crossover skins from the following indie games, which can be found hidden in treasure chests throughout the game's world:
Raz Aquato from Psychonauts
Bullet Kin from Enter the Gungeon
Juan Aguacate from Guacamelee!
Demelza from Knights and Bikes
The Kid from Bastion
Shovel Knight from Shovel Knight
Lover Mu from Lovers in a Dangerous Spacetime
Robot 05 from Planet of the Eyes
Watch a new trailer introducing the game's crossover skins below.