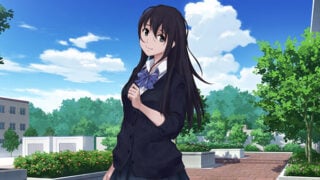 Publisher PQube and developer Art Co. have released a new trailer for Kotodama: The 7 Mysteries of Fujisawa introducing the game's characters.
Characters featured in the trailer include:
Nanami Kagura – The cheerful student. A real bundle of energy, endlessly optimistic and a real chatterbox. She's the first friend you make at the Academy and is super-eager to give you the grand tour of the campus. She's obsessed with 'The Curse of Mikoto'.
Honoka Ichinose – The animal lover. Super shy and timid, she's a quiet girl that's universally well liked. Honoka is a real animal lover, and likes nothing more than getting close to nature, but here's the thing – Animals really don't seem to love her back.
Yukino Tsubaki – The spoilt rich kid. Considered the spoilt rich kid by pretty much everyone at the Academy. She's hard-nosed and frosty even at the best of times. Quick to temper and not one to suffer fools gladly – she also has a pretty big grudge against Nanami Kagura…
Shuji Toyama – The popular track ace. Fujisawa Academy's track and field ace. He's the most popular guy in school – so much so, he even has his own fan club. A decent and level headed guy, Shuji's times have been slipping recently and these days he seems a little distracted…
Wakaba Asagiri – The honest club president. President of the Occult Research Club, or ORC, for short. Wakaba is smart, funny and responsible. There are a number of unsolved mysteries at the Academy and she's made it her goal to uncover the truth – with your help.
Satsuki Kujo – The quick-witted president. A stickler for the rules, and hands-down the smartest student at the Academy. He's a pretty no-nonsense guy and a great source of information about the academy and its secrets – one of which he may just be a little bit too close to.
Chinatsu Hachisuka – The bossy tsundere. Always on patrol around the Academy, Chinatsu likes nothing more than letting students know they've stepped out of line. Bossy doesn't even cover it – but is she really so perfect herself? Seems like she's overcompensating for something…
Mikoto Sasaki – The beloved student. Before Kujo Satsuki, Mikoto was Fujisawa's brightest star. An incredible student and athlete, she was the real deal – that is, before she killed herself. Loved by everyone, her death now haunts the academy as the mysterious 'Curse of Mikoto'.
Kotodama: The 7 Mysteries of Fujisawa is due out for PlayStation 4, Switch, and PC on May 31 in Europe and June 4 in North America.
Watch the trailer below.