Judgment 'Combat' trailer
Freely switch between Tiger and Crane combat styles.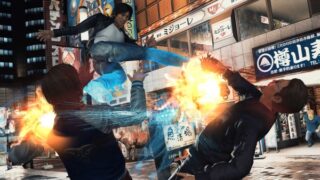 Sega has released a new trailer for Judgment, the next game from Yakuza developer Ryu Ga Gotoku Studio, highlighting the game's combat.
Here is an overview of the trailer, via Sega:
As a private detective in one of Japan's rowdiest districts, Yagami occasionally needs to get a little rough in his investigations.

This self-trained martial artist can freely switch between two unique styles—Tiger and Crane—to take down individual punks or massive groups of thugs. He's also a master of street weaponry, from a humble pair of chopsticks, to the Kamurocho brawler's weapon of choice, the mighty bicycle. Armed with a massive repertoire of EX Action finishing moves, Yagami might be the most dangerous former lawyer in all of Japan!
Judgment launched for PlayStation 4 in December 2018 in Japan, and is due out in the Americas and Europe on June 25.
Watch the trailer below.
English Voice-Overs
Japanese Voice-Overs