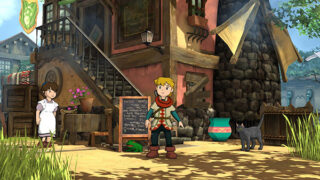 Naps Team has released the debut trailer for Baldo, an upcoming cel-shaded action adventure game in development for PlayStation 4, Xbox One, Switch, and PC.
Gematsu was not able to find any additional information about the game, other than links to its Twitter and Facebook pages. Update 05/30/19: Here is an official description:
The prophecy came true, the pure child is born. The no heart creature sealed in the underworld by the wise owls is about to rise again.

The game is set in the world of Rodia , a journey into a magical land full of mysteries to discover. Baldo is an action adventure RPG, full of puzzles and intricate dungeons to solve. Travelling around the world, Baldo will interact with many weird and funny characters scattered everywhere, to complete the main story quest and many other side quests. You'll travel into an open world map discovering new towns and people, fighting enemies, locating hidden temples and collecting objects to get new weapons or items to use.
Watch the trailer below.