Bubsy: Paws on Fire! for Switch delayed to summer
PlayStation 4 and PC versions still on track for May 16.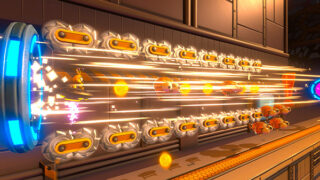 Publisher Accolade and developer Choice Provisions have delayed the Switch version of Bubsy: Paws on Fire! from its previously announced May 16 release date to this summer "to allow a bit more time for final adjustments."
The PlayStation 4 and PC versions of em>Bubsy: Paws on Fire! are still slated for release on May 16. The PlayStation 4 version, as well as the summer-due Switch version, will be available both digitally and in a limited physical edition (currently available for pre-order at Amazon, Best Buy, Target, and GameStop).
"The Switch version of Bubsy: Paws on Fire is in great shape, we're in the final push on some non-gameplay aspects on Switch," said Choice Provisions co-founder Mike Roush in a press release.
Here is an overview of the game, via Accolade:
Four playable characters, each with their own unique game mechanics! Fly and shoot your way through the air as The Woolie, take it underground with Arnold's bonus levels, or run your way to victory with Bubsy and Virgil Reality!
An all-new story featuring the unlikely alliance between Bubsy and his archrivals, The Woolies!
Over 140 levels and variations set across three different worlds!
Three different boss battles!
A unique combo system and set of leaderboards for every character!
A shop with costumes and cosmetics, all of which players can unlock just by playing the game. There are no in-game purchases!
Unique character dialog for every level!
A variety of unique collectible types, ensuring maximum re-playability!
The return of Oinker, Terri, Terry, and many other characters from previous Bubsy incarnations! We've even included Virgil Reality from the Bubsy pilot–we dug deep!