Blood remaster subtitled Fresh Supply, now available
The second coming of the horror first-person shooter classic.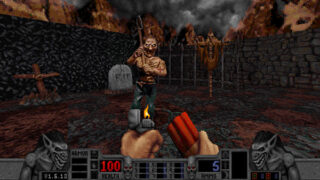 The December 2018-announced remaster of horror first-person shooter Blood is titled Blood: Fresh Supply and is now available for PC via Steam and GOG for $9.99. While not yet available, it should also release on the Humble Store and Discord today.
Here is an overview of the game, via GOG:
About

Battle an army of sycophantic cultists, zombies, gargoyles, hellhounds, and an insatiable host of horrors in your quest to defeat the evil Tchernobog. Squirm through 42 loathsome levels filled with more atmosphere than a Lovecraftian mausoleum. Begin your journey armed with a simple pitchfork and earn more effective implements of destruction like aerosol cans, flare guns, voodoo dolls and more!

Includes the original Blood and add-ons "Plasma Pak" and "Cryptic Passage."

Key Features

Updated using Nightdive Studio's KEX Engine.
Vulkan, DirectX 11 and OpenGL 3.2 support, play with unlocked frame rates!
Anti-aliasing, Ambient Occlusion, V-sync, and Interpolation support.
Support for high resolutions including 4K resolution monitors.
Fully customizable keyboard and controller pad support.
Extended modding support, including support for already existing mods.
Completely rewritten netcode supports up to eight players:
Roll your own soundtrack with full CD and MIDI music support.
Look fully up and down with a new 3D view, or stick with the classic BUILD-engine style!
Watch the launch trailer below.
Thanks, PC Gamer.