The Fruit, Labyrinth, and Eden of Grisaia Full Package announced for Switch
Price and release date not announced.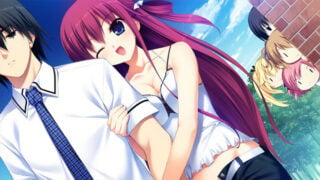 Prototype has announced The Fruit, Labyrinth, and Eden of Grisaia Full Package for Switch, the latest issue of Weekly Famitsu reveals.
A price and release date were not announced.
Here is an overview of each game:
The Fruit of Grisaia (Steam)

Six fruits bare their fangs at the world. The academy was their orchard.

In this place of learning, protected by high walls from the outside world, there arrived a single young man who'd lost his purpose in life. He'd lost sight of what he wanted to protect. He passed his days in a haze of guilt and regret. All that remained to him were the chains around his neck… And a life worth less than that of a stray dog. But in that academy, he would meet five young women. And in time, he would discover a new thread of hope.

That girl's very birth was a mistake. The sin of disobedience. A life not so different from death. No one's going to protect you. And survival itself can be a punishment.

That place was their orchard. Those young women were the fruits of remorse, grown on the tree of sorrow.

"What can I do for them…?"

In that thought lay the undying hope one young man had dreamed of finding–

The Labyrinth of Grisaia (Steam)

This is the sequel to The Fruit of Grisaia. It is strongly recommended to play the first game before starting this.

"Are things OK as they are?"

In every second of every minute of the life the young man had lived, the same thought recurred in his mind.

Looking back on his past, the girls he'd met in this peaceful life made him feel guilty, and his heart was tormented with that guilt.

That girl discovered the meaning of her birth. She no longer needed to hide her true self. Understanding what it means to struggle to live from the protected to to the protector. To feel so, so glad to be alive.

Since the young man started meddling in young women's affairs, their gray orchard began to recover its former brilliance.

"It is impossible to capture eternity. But surely, I can at least spend the rest of my life with your hand in mine, never letting go."

That was the one decision one young man kept in his heart…

The Eden of Grisaia (Steam)

This is the sequel to The Labyrinth of Grisaia. It is strongly recommended to play the first and second game before starting this.

He thought life at the academy would never change.

Everyone marched forward in the same direction, matching step for step; before he knew it, he began to surrender to that illusion. He believed that he would only arrive at the same place if he continued down the same path as everyone else.

Then he realized.

Just as there are as many paths as there are people, no two paths are identical.

"Asako. I've already saved the five of them, you know? So it's all right, isn't it…? It's all right… for me to die now, right? I know that even if I save somebody, it doesn't mean I can erase my past. Still, wouldn't it mean I can die with a smile on my face?"

"I might not be able to see those girls anymore. But at least those memories would stay in my heart forever. Still, this unforgiving world isn't full of girls sweet enough to be satisfied by those words alone."

That was the truth one young man finally understood…

The final chapter in the Grisaia series, featuring Prologue De La Grisaia, a prologue set before Yuuji's arrival at Mihama; Blanc Aile no Tane, the overarching story's grand conclusion.
Thanks, Ryokutya2089.