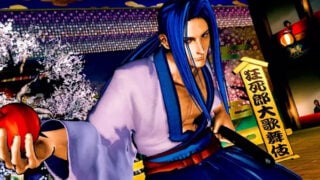 The third character trailer for Samurai Shodown introduces Ukyo Tachibana.
Here is an overview of Ukyo, via Athlon Games:
Ukyo is a swordsman skilled in the lai quick draw sword technique. Ukyo is quite popular with the ladies, but only has eyes for his beloved Kei Odagiri. Although he suffers from an incurable sickness, he continues to fight for her. Don't blink – no one can see his lightning-fast quick draw coming.
If you missed it, previous trailers introduced Darli Dagger and Nakoruru.
Samurai Shodown is due out for PlayStation 4 and Xbox One on June 27 in Japan, and in June in North America and Europe. Switch and PC versions are planned for release in winter 2019.
Watch the trailer below.
Thanks, Shoryuken.