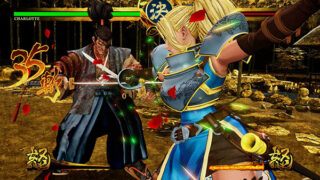 The latest issue of Weekly Famitsu reveals the Japanese voice cast behind 13 of the 16 playable characters in the upcoming Samurai Shodown reboot.
The voice cast is as follows:
Haohmaru (voiced by Daiki Nakamura)
Nakoruru (voiced by Mai Nakahara)
Hanzo Hattori (voiced by Tadahisa Saizen)
Galford (voiced by Wataru Komada)
Ukyo Tachibana (voiced by Shinjiro Sakurai)
Jubei Yagyu (voiced by Hiroshi Naka)
Earthquake (voiced by Kentarou Tone)
Charlotte (voiced by Afumi Hashi)
Genjuro Kibagami (voiced by Kong Kuwata)
Kyoshiro Senryo (voiced by Monster Maezuka)
Tam Tam (voiced by Ryousuke Morita)
Yoshitora Tokugawa (voiced by Makoto Furukawa)
Shiki (voiced by Chitose Morinaga)
The voice actors for recently announced new character Darli Dagger and other two new characters have yet to be announced.
Samurai Shodown is due out for PlayStation 4 and Xbox One in June, Switch in Q4 2019, and PC at a later date. If you missed it, read our preview here.
Thanks, Ryokutya2089.