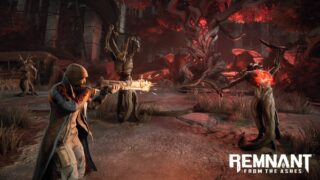 Pre-orders for Remnant: From the Ashes will include "VIP Weekend Preview Access," exclusive armor, and the "Survival Pack" add-on, publisher Perfect World Entertainment and developer Gunfire Games announced.
Here are the details, via Perfect World Entertainment:
Players who pre-order the game on any platform will receive guaranteed VIP Preview Access ahead of the game's official launch on August 20, exclusive character armors, and a bundle of survival materials to gain an edge on the game's many challenges.

More details about pre-order bonuses can be found below:

VIP Preview Weekend Access – Experience the intense combat, challenging enemies, epic bosses, and flexible, gear-based progression of Remnant: From the Ashes before launch. Pre-ordering the game guarantees a spot in our exclusive VIP Preview Access period.
Exclusive Armor – Survive in style in these three unique armor sets. Deliver divine retribution in the Doomsayer Ex-Cultist Armor, unleash hell upon your enemies in the Gladiator Scrapper Armor, and get the drop on your foes in the Nightstalker Hunter Armor.
Survivor Pack – You'll need every advantage you can get to survive the nightmarish creatures and harsh environments of the apocalypse. Give yourself an early edge with this survivor pack full of weapon crafting materials to improve your artillery, medical supplies to keep you alive, and a temporary XP boost to give you a head start against the Root. You're gonna need it.
Remnant: From the Ashes is due out for PlayStation 4, Xbox One, and PC on August 20.
View a new set of screenshots at the gallery.