Project Nimbus: Complete Edition coming to Switch on May 16
Intense high-speed dogfights in mech-based "Battle Frames."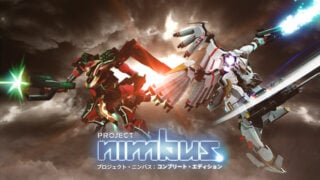 GameTomo is bringing Project Nimbus: Code Mirai to Switch as Project Nimbus: Complete Edition on May 16, the publisher announced. It will be available via the Nintendo eShop for $19.99 with English and Japanese language support.
Project Nimbus: Code Mirai first launched for PlayStation 4 in November 2017. The "Rise Mirai" expansion downloadable content was released in November 2018.
Here is an overview of Project Nimbus: Complete Edition, via GameTomo:
About

With its intense high-speed dogfights in mech-based 'Battle Frames', Project Nimbus: Complete Edition is the definitive mecha battle game for Nintendo Switch!

Inspired by the Gundam, Macross, and Ace Combat series, the game features vibrant graphics, blistering action and an epic storyline with battles over floating cities, vast oceans, and the reaches of outer space. Fly a variety of mighty Battle Frames fully loaded with missiles, energy blades, psychodrones, particle cannons, and more in intense and relentless in-air combat.

The four act storyline of Project Nimbus details the violent clash of three different factions over a war-torn futuristic Earth. Endless Survival and special Warfront Mode feature additional Battle Frames and mission types.

Fly the most advanced Battle Frames ever created through a series of breathtaking environments, from ocean fortresses to cloud filled skies to the blasted ruins of Earth's greatest civilizations.

Continue the story of Mirai, UCN, CFN, and the Children of Fallen Nations as the fight for peace on Earth continues, ending in an epic battle for the salvation of humanity.

Key Features

High-speed battle action, piloting heavily armored Battle Frames through the war torn skies.
Twenty-six missions in a variety of locations, including floating cities, ocean fortresses, mountain bases, futuristic prisons, and battles in space.
Over a dozen playable Battle Frames with weapons including smart missiles, energy blades, particle cannons, floating energy shields, railguns and autonomous psychodrones.
A sprawling storyline with battles between three different factions over a war-torn futuristic planet: the US-lead CFN, the Russia-led UCN, and the shadowy terrorist Children of Fallen Nations.
Complex bosses each with a unique fighting style, including orbiting nuclear battle mechs, bands of deadly pilots, and weaponized flying ships.
Missiles, rail guns and cannons for long range combat…energy blades and blade rushes for melee!
Bonus Survival Mode lets you choose from an entire hangar of Battle Frames, and then you must battle endless waves of enemies with increasing power.
WARFRONT mode includes massive replayability with six unlimited mission modes including Base Defense, Interception, and Assassination. Six levels of pilot (including Legendary) and Battle Frame customization will keep you playing for hours more.
Watch the announcement trailer below. View a set of screenshots at the gallery. Visit the official website here.