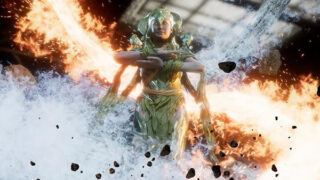 New character Cetrion will be playable in Mortal Kombat 11, publisher Warner Bros. Interactive Entertainment and developer NetherRealm Studios announced via Game Informer.
Cetrion is an Elder God whose moveset featuring various elemental abilities highlights her connection to the Earth.
The May 2019 issue of Game Informer also has a Mortal Kombat 11 cover story, which offers more information on Cetrion and a deep dive into the game across 14 pages. Game Informer will also have a month of exclusive online coverage.
Mortal Kombat 11 is due out for PlayStation 4, Xbox One, Switch, and PC on April 23.
Watch Game Informer's Mortal Kombat 11 exclusive coverage trailer and Cetrion reveal trailer below.
Game Informer Coverage Trailer
Cetrion Reveal Trailer