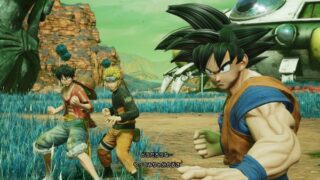 The latest issue of V-Jump reveals the remaining seven downloadable content characters for Jump Force following the previously announced Seto Kaiba from Yu-Gi-Oh! and All-Might from My Hero Academia.
The full list is as follows:
Biscuit Krueger (from Hunter x Hunter)
Toushirou Hitsugaya (from Bleach)
Majin Buu (Good Buu) (from Dragon Ball Z)
Katsuki Bakugou (from My Hero Academia)
Trafalgar Law (from One Piece)
Grimmjow Jaegerjaquez (from Bleach)
Madara Uchiha (from Naruto)
Jump Force is available now for PlayStation 4, Xbox One, and PC.
Thanks, Ryokutya2089.