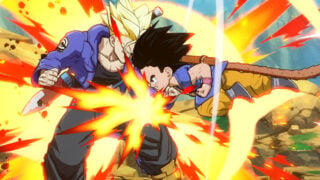 Goku (GT) will launch as a downloadable content character for Dragon Ball FighterZ in May, the latest issue of V-Jump reveals.
The fighter has a hidden Meteor super special move called "Dragon Fist Explosion." While ordinarily his rush attack, if used after a teammate has been killed, Goku will transform into Super Saiyan 4 and a golden dragon will pierce through his opponent.
Additionally, the magazine reveals the release of three additional "Commentator Voice Pack" add-ons: "Android 17 / Trunks / Zamasu" for 200 yen, "Beerus / Wis" for 150 yen, and "Android 21" for 150 yen.
Dragon Ball FighterZ is available now for PlayStation 4, Xbox One, Switch, and PC.
Thanks, Ryokutya2089.