Caravan Stories for PS4 now available in Japan with English language option
Traditional Chinese also supported.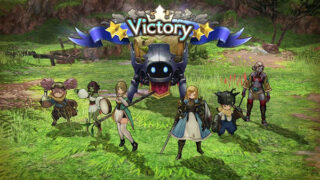 The PlayStation 4 version of Caravan Stories is now available for download as a free-to-play title via the Japanese PlayStation Store with support for Japanese, English, and Traditional Chinese language options.
Here is an overview of the game, via its official website:
■ World

Begin your journey through a never-ending fantasy world across many different races!

There are many beings living in the fantastic world of Iyarr.

Those who fly, those who walk, those who leap, and those who prowl.

Form bonds with the many beings living in Iyarr from the back of your magical fortress, the Caravan.

Challenge the mysterious Enigma — an enemy to all!

■ Races

Five allies of different races in an interwoven story.

■ Battle

Co-op, PvP, solo — battle it out your way!

Skill – Time the use of your skills well to gain a chance at victory in battle. (Video)
Raid – When the skies open up, gather your allies and confront the massive bosses. (Video)
Duel – Aim for the top in this tower defense with a twist! (Video)

■ Build

Train your characters how you want in the more than ample system set

Beast – Make allies with over 100 different species of Beasts to be discovered.
Time – The scenery changes depending on what time it is—morning, noon, evening, or night.
Caravan – Customize your Caravan to be your very own, and set off on an adventure.

■ Controls

L1, L2, R1, R2 buttons: Targeting – Select enemy characters with a smooth motion / easily select NPCs or enemy characters.
Left stick: Moving – Simple character movement.
Right stick: 360-degree camera – Zoom in and move the view around however you want.
X button: Jump – Your character can even jump!
Directional keys + Left stick: In-battle skill use – Choose where and how you want to use your skills.
For more information, an English help website is available here.