Witch and Hero for Switch launches March 21 in Japan
Debut trailer released.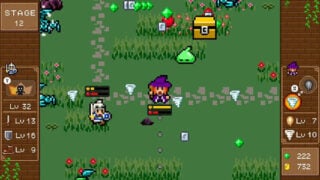 The Switch version of Witch and Hero will launch via the Nintendo eShop on March 21 in Japan for 500 yen, publisher Flyhigh Works announced. Pre-orders are available now and include a 20 percent discount.
The 8-bit style action game first launched for iOS in August 2012, followed by 3DS in April 2013, and PC in April 2016.
On Switch, Witch and Hero will feature local co-op play where one player controls the hero, and the other player controls the witch.
Here is an overview of the 3DS version, via Nintendo.com:
About

Witch and Hero is an 8-bit style action game. You play as a hero accompanied by a witch taking on the evil Medusa, whom has destroyed many villages and towns with the monsters that stand before her.

Medusa turned the witch into stone, so she is no longer able to move. So it's up to the hero to defeat the monsters and collect their blood in order to recover the witch for a limited duration. The witch's destructive magic easily destroys monsters, but you will have to rely on the hero's will power primarily. He is able to try and try again, but the witch cannot, thus the hero must protect her.

Key Features

Retro 8-bit pixel graphics and sound, along with simple controls.
Wipe out huge waves of monsters through 20 stages with two difficulties.
Choose between Trial mode and infinite mode for an in-depth challenge.
Watch the debut trailer for the Switch version below. Visit the official website here.