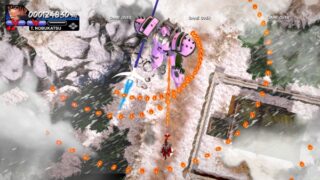 QUByte Interactive has announced a new "Timeless Mode" for Vasara Collection, its upcoming collection including arcade shoot 'em ups Vasara and Vasara 2.
Here is an overview of Timeless Mode, via QUByte Interactive:
A procedurally generated game mode, completely built from scratch with polygonal graphics, which places the players against hordes of evil in a continuous battle for the top of the leaderboard.

In Timeless Mode, graphics are not the only thing that have changed, new gameplay mechanics have been added to make full use of the newly added widescreen gameplay area, such as a new Dash move, and support to up to four Players in co-op has been added.

Also, in Timeless Mode, you can play with any combination of heroes from both Vasara 1 and 2, each with their own stats and gameplay style.
And here is an overview of the collection itself:
About

For the very first time, highly acclaimed Japanese arcade shoot 'em ups Vasara (2000) and Vasara 2 (2001) are made available to the whole world via this package: Vasara Collection!

Science-fiction meets history in these arcade classics which take place in an alternate timeline feudal Japan where technologically advanced weaponry and equipment are a reality, and heroes use flying motorcycles with amazing firepower and fierce melee weapons to destroy their enemies.

The late ruler of Japan, Hideyoshi Hashiba, has just died and Ieyasu Tokugawa is planning on taking over. The protagonists must battle their way through a series of warlords sent by Tokugawa in order to keep him from succeeding.

Fight against warships, battle tanks, giant robots, evil soldiers, and rogue Samurais to prevent 1600s Japan from being taken over by tyrannical forces.

The highly skill-based gameplay keeps you at the edge of your seat at all times. Try and stay alive on this frantic game where everyone, and everything, is out to kill you!

Key Features

PlayStation TV / Vita TV support (including Two-Player Co-Op).
Tate Mode / Vertical Mode support.
Eight playable characters inspired by real Japanese historical figures.
Sci-fi meets feudal Japan in this retelling of historical battles.
Fight robots and samurai using traditional shooting and powerful melee attacks.
Heavily skill-based gameplay for experts.
Easy Mode for starters.
Branching paths and multiple endings according to your characters and in-game actions.
Vasara Collection is due out for PlayStation 4, Xbox One, Switch, PC, Mac, and PS Vita in "early 2019." A limited run physical edition distributed by Strictly Limited will be released for PlayStation 4, Switch, and PS Vita.
View the first screenshots of Timeless Mode at the gallery.