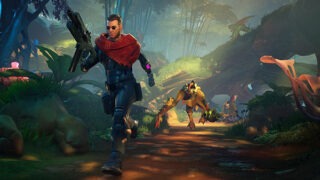 The PC version of The Cycle, the next title from Spec Ops: The Line and Dreadnought developer Yager, will be released exclusively via the Epic Games Store when it launches later in 2019, the studio announced.
Sign-ups are now available at the game's official website for a three-day alpha test, which will run from March 28 to 30 with English, German, and Russian language support.
Here is a brief overview of the game, via Yager:
The Cycle is a match-based first-person shooter with an emphasis on PvPvE action, completing jobs, gearing up with new weapons and powers, out-scoring other players and making it off the planet alive. On the exotic alien frontier of Fortuna III, you'll compete against and – if you choose – team up with other Prospectors to harvest resources, defeat hostile lifeforms and make your fortune before the world, your rivals or even your so-called allies kill you.

It's up to you how to stake your claim: go it alone, form squads with friends or make uneasy temporary alliances with strangers. The Cycle delivers a competitive multiplayer experience where everyone can survive, but how you choose to manage your time on Fortuna III can have a big impact. Completing your own objectives will give you more points on the leaderboard, but knocking off your opponents is a surefire way to make sure they don't get any higher either.
The Cycle is also planned for release on consoles.
Watch a new trailer below.