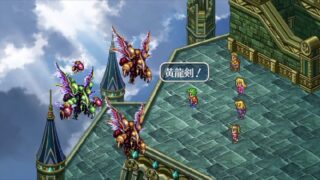 The Romancing SaGa 3 remaster, which was previously planned for release in early 2019 in Japan, has been delayed to an unannounced release window, Square Enix announced on the first official broadcast for its Romancing SaGa Re:Universe smartphone game.
During the broadcast, SaGa series producer Masanori Ichikawa said, "We are still in the state of improving the development quality, so I would like to have a little more time."
Square Enix also debuted the latest gameplay footage during the broadcast. After the presentation, Ichikawa said, "We're quite done, but I would like to increase the quality even further."
In a tweet, SaGa series creator Akitoshi Kawazu added, "Romancing SaGa 3 fans, I ask for your further patience. The development team is doing their best, so please wait a little longer."
Romancing SaGa 3 will be released for PlayStation 4, Xbox One, Switch, PS Vita, PC, and smartphones.
Watch the footage below (from 14:45 to 15:51).