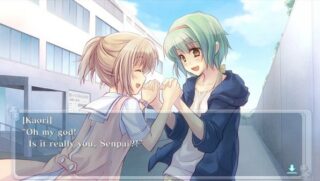 The recently announced Hakuisei Renai Shoukougun remaster is coming west as Nurse Love Syndrome for PS Vita and PC in April, publisher Degica Games and developer Kogado Studio announced. The publisher made no mention of the Switch version.
Here is an overview of the game, via its Steam page:
About

In a fantasy Japan, where womanly love is the norm, and a nurse can heal others with a touch of her hands…

Meet cheerful Kaori Sawai, fresh out of nursing school, as she joins Yurigahama Hospital. Surviving a near death experience as a child left her with a desire to become a nurse and "healing hands" that lets her relieve pain in patients just by touching them.

Written by real life nurses Sakura Sakura and Madoka Madoka, Nurse Love Syndrome shares the same world as Nurse Love Addiction. Focusing on young adults fresh out of school, guide Kaori in her story of growth, love, and medicine.

Key Features

Quirky Cast – From the strict head nurse Hatsumi Otsuka, big-sisterly Yasuko Yamanouchi, and nursing school senpai Nagisa Fujisawa, to the hostile patient Sayuri Sakai, cute looking high-schooler Ami Asada, and the mysterious Master of Room 310, the cast of quirky characters will all define Kaori's growth.
Multiple Endings – Let your choices decide how Kaori will grow her relationship, and lead her to one of the 20 or more endings, of sweet love or darker passions.
Complete Edition – Nurse Love Syndrome includes all the content of the updated Nurse Love Syndrome Re:Therapy game released in Japan, for you to enjoy the definitive edition of love and nursing.

Voice Talents

Kaori Sawai (voiced by Asumi Kana)
Hatsumi Otsuka (voiced by Eri Kitamura)
Nagisa Fujisawa (voiced by Yoko Hikasa)
Sayuri Sakai (voiced by Asami Imai)
Yasuko Yamanouchi (voiced by Yumi Hara)
Ami Asada (voiced by Manabi Mizuno)
Mayuki Wakamoto (voiced by Ayane Sakura)
Watch the announcement trailer below.