Kenichiro Takaki leaves Marvelous, remains producer of the Senran Kagura series [Update]
Takaki to take on new ventures after 13 years at Marvelous.
Senran Kagura series producer Kenichiro Takaki has left Marvelous to set sail on a new voyage, but will continue to work as the "huge boobs producer" of titles like Senran Kagura, the latest issue of Weekly Famitsu reveals.
Takaki, who has earned the "huge boobs producer" nickname due to his hand in games like Senran Kagura, worked at Marvelous for 13 years. In March 2017, Takaki was placed in charge of his own subsidiary called Honey Parade Games.
The March 28-due issue of Weekly Famitsu, as well as Famitsu.com, will have an interview with Takaki regarding his resignation from Marvelous, including the reason he left, the future of the Senran Kagura series, his plans for new ventures, and a new multimedia project in the works at Marvelous.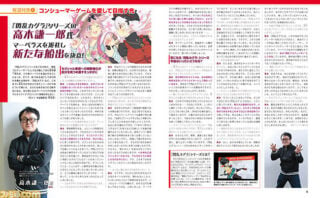 Thanks, Famitsu.
Update 03/27/19 at 3:00 a.m.: First tidbits have come in from Weekly Famitsu. According to the magazine, Takaki's biggest reasons for leaving Marvelous were restrictions on the depiction of sexual content. He felt that a thread had snapped within him. He said that while sexual content is often criticized, there are many that enjoy it. Takaki believed that such variation was one of the things that supported the games industry, but when it was so easily broken, it made him think about various things. Takaki welcomes restrictions and regulations that protect specific scopes and genres. However, he feels the recent trend will definitely have a chilling effect.
Takaki wants to make a traditional fantasy-esque game like the games he went crazy for as a kid. He is now at Cygames working on console title(s).
Takaki will properly finish up work on his currently in-production titles. Senran Kagura 7EVEN, however, will take some time. While the base of the game will not change, Takaki is working on parts that must be changed. After that, either he or someone else will complete and deliver it to the fans. They are taking their erotic gags more seriously than ever before. Takaki will cooperate with existing staff on Senran Kagura, while leaving the adjustments to Marvelous internally and continuing his existence as the "huge boobs producer."
Takaki is also working on a new multimedia project published by Marvelous that involves both a game and anime. Character design is by Hanaharu Naruko and the anime is directed by Hiraku Kaneko. It is unrelated to the Senran Kagura series. There will be beautiful girls, but unlike Takaki's previous games, they will remain clothed. It will be an orthodox-style and fervorous game. Development started about a year and a half ago. An image in Weekly Famitsu shows a girl riding something that looks like a motorcycle.
According to Takaki, he wants to show something that will make people say, "He made something amazing even though he's the oppai producer, what sass!"
"Even if my place of work or the nature of my titles change, what I show won't change and I don't want it to," Takaki said. "I'm a game fan at heart; I tell dirty jokes and make irresponsible comments (laughs), but I'll work my hardest to make games."
It is unknown at this time whether this title has any connection to Cygames.
Thanks, Ryokutya2089 (2).