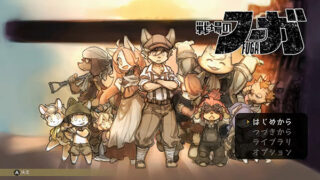 CyberConnect2 debuted 12 minutes of gameplay footage for Fuga, the "dramatic strategy RPG" followup to Little Tail Bronx, during a Famitsu live stream today.
Here is an overview of the game, via our previous coverage:
A game celebrating the Little Tail Bronx series' 20th anniversary, where the fates of children are thrown into chaos by the sudden flames of war.

11 children will take control of a mysterious ancient weapon to fight against an evil army and save their imprisoned families.

Deal with the children's emotions and move them inside the tank to overcome the trials in your way!

The Soul Cannon—a powerful weapon used by sacrificing one of the children—might force you to make a dire decision!

A dramatic, strategic RPG about friendship, grief, hope, and despair.

Berman Empire – An evil fascist warrior nation. Utilizing advanced technology in its weaponry, it plans to engulf the world with the ravages of war.
11 Children – The lone survivors of an attack on their village. Now they head out in a gigantic tank to rescue their families who have been taken as prisoners by the Empire.
Giant Tank Taranis – An ultra weapon from an ancient civilization wrapped in a myriad of mysteries. Loaded on board is the ultimate weapon, the Soul Cannon, capable of being activated by sacrificing a crew member's life. Taranis is a weapon of tremendous power, but at the same time a source of dread and fear for our young heroes.
Fuga is due out for PlayStation 4, Xbox One, Switch, and PC worldwide this fall.
Watch the footage below (from 21:15 to 33:33).