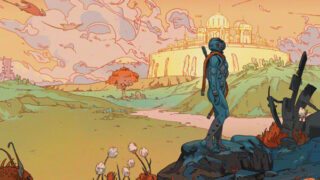 The Outer Worlds, the December 2018-announced science-fiction open-world RPG from publisher Private Division and developer Obsidian Entertainment, is Game Informer's March 2019 cover story, the magazine announced.
Here is Game Informer's overview of its magazine coverage:
Inside, you'll find 14 pages chock full of new details, screenshots, and art from The Outer Worlds. We learned about the distant Halcyon star system that serves as the setting. A new demo showed off new playstyles for confronting encounters, including a surprising approach that focuses on leadership and companions. We learned about leveling, character progression, and skill acquisition – and saw the hilarious shrink ray weapon in action. We also spoke extensively with the developers at Obsidian about the scope and size of The Outer Worlds, the comparisons to Fallout, and more.

The March issue also afforded us the chance to learn more about Ubisoft's upcoming release of The Division 2, with a thorough examination of how the game has grown from its predecessor, and is embracing a deep end-game experience. We visited the headquarters of the VR specialists at Oculus, and we're happy to share a first look at a new fantasy adventure called Asgard's Wrath, which aims to raise expectations for large-scale VR gaming. If you're already planning your watch list for the next year, expect a multi-page feature on the most anticipated games of 2019 as well.
In addition to the magazine coverage, Game Informer will have a month of exclusive online content.
The Outer Worlds is due out for PlayStation 4, Xbox One, and PC in 2019.
Watch Game Informer's The Outer Worlds coverage trailer below.