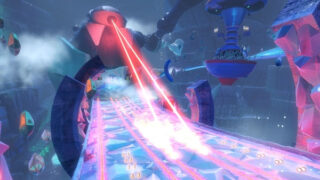 Sega has revealed the "Frozen Junkyard" map for Sonic the Hedgehog racing game Team Sonic Racing.
Here is an overview of the map, via Sega:
In Frozen Junkyard, Sonic and friends will race through a hazardous frosty junkyard and avoid treacherous obstacles, including lethal beams from a massive Death Egg Robot! Jun Senoue, the iconic composer of the Sonic series, has teamed up with Tyler Smyth of Danger Kids to create a new song for the track.
Team Sonic Racing is due out for PlayStation 4, Xbox One, Switch, and PC on May 21.
Listen to a preview of the Frozen Junkyard music track below. View a set of screenshots at the gallery.