Resident Evil, Resident Evil 0, and Resident Evil 4 for Switch launch May 21
A trio of Resident Evil titles coming to Switch.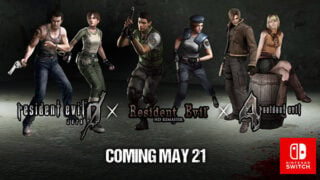 Resident Evil, Resident Evil 0, and Resident Evil 4 will launch for Switch via the Nintendo eShop on May 21, Capcom announced. Pre-orders will open on February 28.
In North America, a Resident Evil Origins Collection including Resident Evil and Resident Evil 0 will be available at retail. In Europe, a retail release is not planned.
All three games are currently available on PlayStation 4, Xbox One, and PC, as well as other platforms.
Here is an overview of each game, via their Steam pages:
Resident Evil (Steam)

About

The game that defined the survival–horror genre is back! Check out the remastered HD version of Resident Evil.

In 1998 a special forces team is sent to investigate some bizarre murders on the outskirts of Raccoon City. Upon arriving they are attacked by a pack of blood-thirsty dogs and are forced to take cover in a nearby mansion. But the scent of death hangs heavy in the air. Supplies are scarce as they struggle to stay alive.

Key Features

Graphics

More detailed graphics that retain the horror.
The environments come alive with detail thanks to resolution upgrades and non-static 3D models.
Post-processing effects like Bloom filters, which were not easy to do at the time of the original release, have been added to make the HD
graphics even more realistic.
High-Resolution Environments – We've increased the resolution of the background environments by recreating them with a mix of high-res
static images, plus animated 3D models.

Widescreen Support

Widescreen (16:9) is supported, so players can experience a greater sense of immersion.
In widescreen mode, the screen will scroll. The parts of the screen that get cut off on the top and bottom will scroll into view automatically depending on the character's position.
You can switch the display mode during gameplay in real time.

Sound and New Controls

High-Quality Sound – The audio has been remastered to increase the sampling rate, and of course 5.1 channel output is also now supported.
New Controls
You can play using the original control scheme or an alternate control scheme that lets you just push the analog stick to move in the direction you want to go.
You can switch the control scheme during gameplay in real time.

Resident Evil 0 (Steam)

About

Be prepared to relive the first nightmare in Resident Evil 0, a remastered version of the popular prequel to the original Resident Evil game. This remastered version takes the fear-inducing atmosphere from the original 2002 release and transforms it with stunning new HD visuals, improved sound, widescreen support and an optional modernized control system and more. It's the best way to experience the story of what really happened before the iconic mansion incident that was the catalyst for the entire Resident Evil saga.

The story of Resident Evil 0 takes players back to 1998. Reports have been mounting about unusual murders on the outskirts of Raccoon City. The city's Special Forces division, S.T.A.R.S., sends their Bravo Team – including rookie cop member Rebecca Chambers – to investigate. On route, the team's helicopter suffers engine trouble and is forced to make a crash landing, where they find an overturned prisoner transport vehicle. Splitting up to search the area, Rebecca discovers the Ecliptic Express, a train stopped dead on the tracks. Inside, she meets death row convict and ex-Navy lieutenant Billy Coen. Throughout the game, you will take control of both Rebecca and Billy, at times switching between both characters in order to proceed. Learning the advantages of each character is the key to solving puzzles and surviving the nightmares that lie ahead.

Key Features

Return to the series origins – Discover the truth behind what led to the horrors at the Mansion in Resident Evil in this fan-favorite and popular prequel title to the series.
Completely enhanced visuals – New high-resolution textures have been created from scratch, including 1080p support on next-gen consoles, while still preserving the classic appearance of the original release.
Fully remastered sound effects – 5.1 channel surround support provides a more experiential gaming atmosphere that best matches players' listening environments.
Experience the horror in the classic 4:3 ratio or newly added 16:9 widescreen mode.
Play with the classic control scheme, or enjoy a new alternative scheme where the character moves in the direction of an analogue stick.
Fan-favorite Resident Evil characters – Rookie S.T.A.R.S. member Rebecca Chambers and wanted criminal Billy Coen combine skills and buddy up to survive the undead and infected nightmares that await them.
Wesker Mode – After completing the main storyline, you will be able to take control of series antagonist Albert Wesker, and use his superhuman abilities to power through the missions.

Resident Evil 4 (Steam)

About

In Resident Evil 4, special agent Leon S. Kennedy is sent on a mission to rescue the U.S. President's daughter who has been kidnapped. Finding his way to a rural village in Europe, he faces new threats that are a departure from the traditional lumbering zombie enemies of the earlier installments in the series. Leon battles horrific new creatures infested by a new threat called Las Plagas and faces off against an aggressive group of enemies including mind-controlled villagers that are tied to Los Illuminados, the mysterious cult which is behind the abduction.

Key Features

Stunning HD running at a smooth 60 frames per second for the first time.
A complete visual overhaul has been performed to bring this revered title to the highest graphical quality ever.
Fully optimized for the wide screen, texts have been sharpened and textures have been upgraded on characters, backgrounds and in-game objects.