NES – Nintendo Switch Online adds Kirby's Adventure and Super Mario Bros. 2 on February 13
Japan also gets Tsuppari Oozumou.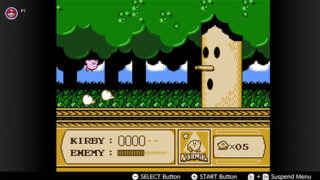 The Nintendo Entertainment System – Nintendo Switch Online app will add Kirby's Adventure and Super Mario Bros. 2 on February 13, Nintendo announced.
Here is an overview of each game, via Nintendo:
Kirby's Adventure – Using 20 unique tricks and Kirby's ability to steal enemies' powers by swallowing them, you'll have to make your way through a horrific land filled with all kinds of nightmares. Recover the broken pieces of the Star Rod, and everyone in Dream Land will sleep peacefully once again. If you fail, the citizens of Dream Land will be subjected to a lifetime of terrible nightmares.
Super Mario Bros. 2 – Mario, Luigi, Princess Toadstool and Toad embark on a quest together to save the day against the villainous Wart. Pick up items and throw them at your adversaries to clear levels in seven fantastical worlds. Even enemies can be picked up and tossed across the screen. This unique installment in the Super Mario Bros. series will keep you coming back for more.
In Japan, Tecmo's Tsuppari Oozumou will also join the lineup.
The Nintendo Switch Online subscriber-exclusive app allows users to play classic Nintendo Entertainment System games. With online play added to every classic game, you can compete or cooperate online with friends, share your screen, or pass the controller, depending on the game.
Watch a set of trailers below.
English
Japanese