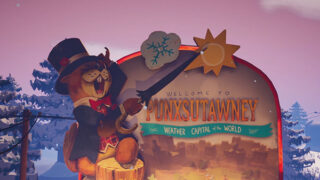 Sony Pictures Virtual Reality, MWM Immersive, and Tequila Works have announced Groundhog Day: Like Father Like Son, a sequel to the 1993-released film Groundhog Day, for PlayStation VR, Oculus, and Vive. It will launch in 2019.
Here is an overview of the game, via its official website:
Groundhog Day: Like Father Like Son is a virtual reality adventure game to be released later this year on PlayStation Virtual Reality and other major VR platforms. With over eight hours of hilarious puzzles and branching narrative gameplay, the story challenges you to think past today and break the time-loop cycle to escape into tomorrow.

In Groundhog Day: Like Father Like Son you'll play as the charming but arrogant Phil Connors Jr., who grew up in the shadow of his father—a man who spent a lifetime repeating a single day until he had made it perfect. But for Phil Jr., today is the worst day of his life. He's trapped back home in Punxsutawney, the small town he thought he'd escaped, where he can't even get a decent cappuccino—and he's going to have to repeat the day over and over until he learns the true value of friends and family.
Watch the announcement trailer below.