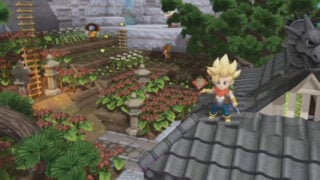 Dragon Quest Builders 2 downloadable content "DLC Pack No. 1: Japanese-Style Pack" will launch on February 28 for 700 yen in Japan alongside a new game update, Square Enix announced.
Here is an overview of the add-on and update:
DLC Pack No. 1: Japanese-Style Pack

Decorative Furniture

Pine
Bamboo
Water wheel
Shishi-odoshi
Katana decoration
Big bell
Bag of rice
Onigiri set
Dumpling set
Geta
Giant mallet

Walls, Flooring, and Stairs

Gravel flooring
Tatami
Elegant wall
Ply wood wall
Wooden room divider
Rope ladder

Doors, Windows, and Roofing

Wood sliding door
Fusuma (sliding screen)
Ranma (transom window)
Tiled roof
Tiled roof decoration
Tiled roof: countertop
Demon decorative ridge-end tile

Lighting

Paper lantern
Stone lantern

Living Furniture

Futon
Tea table
Kotatsu
Pawlownia-wood drawer chest

Wall-Mounted Furniture
Farming and Animal Keeping
Consumable Items

Rice plant seeds
Soba seeds
Shake onigiri
Omurice
Dumplings
Sushi
Oyakodon
Zaru soba
High-grade zaru soba
Tempura soba
Sweet rice water
Jipang sheet music

Intermediate Materials
New Materials Island

February 28 Update (Separate from Add-On)

"Bulletin Board" information display change
Prizes will be presented to the top users on the Bulletin Board Daily Ranking (1st Place: Gold Medal, 2nd Place: Silver Medal, 3rd Place: Bronze Medal, 4th through 8th Place: Commemorative Medal)
Camera perspectives added to Photo Mode
Facial expression change feature added to Photo Mode
Water can now be displayed through glass
Ability to upload Cultivation Island to the Bulletin Board added
Doors can now be opened on switch
Cabinets, drawer chests, and big closets can now store items other than armor and clothes
Increased the amount of dyes obtainable from crops
Dragon Quest Builders 2 is available now for PlayStation 4 and Switch in Japan, and is due out in North America and Europe in 2019.
Watch an archive of the live stream announcing the add-on release date and update below.