Days Gone 'Sarah + Deacon' screenshots
A Mongrel Matrimony.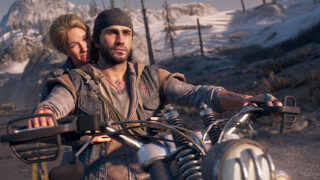 A new set of Days Gone screenshots have surfaced via a "Deacon and Sarah's Wedding Invitation" website.
Here is the blurb featured on the website:
Their Story

Deacon St. John and Sarah Whitaker were an unlikely couple: He was from rural Oregon, a member of an outlaw motorcycle club; she was from Seattle, a botanist with a degree in biochemistry. But from the moment they met, on the back roads of Farewell Oregon, they were inseparable.

Now they're ready to ride off into the sunset and face the next chapter of life together as man and wife.

Follow them along the way.
Days Gone is due out for PlayStation 4 on April 26.
View the screenshots at the gallery.
Thanks, ResetEra.