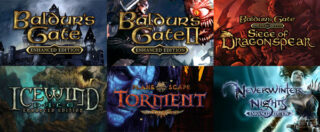 Publisher Skybound Games and developer Beamdog are bringing the Enhanced Editions of Baldur's Gate, Baldur's Gate ll, Baldur's Gate: Siege of Dragonspear, Icewind Dale, Planescape: Torment, and Neverwinter Nights to consoles for the first time ever in 2019, the companies announced.
It should be noted that while this article is tagged with PlayStation 4, Xbox One, and Switch, specific platforms were not announced. More information on platforms and box contents will be announced in the coming months.
A selection of Beamdog's games will be on display at the Skybound Games booth at PAX East 2019 from March 28 to 31.
Here is an overview of each title:
Baldur's Gate: Enhanced Edition

Since its release in 1998, this classic saga of mystery, intrigue, and adventure has set the standard for Dungeons & Dragons computer role-playing games. Customize your hero's traits and abilities, recruit a party of brave allies, and explore the far corners of the Sword Coast in your search for adventure, profit… and the truth.

Baldurs Gate II: Enhanced Edition

Baldur's Gate II: Enhanced Edition combines both Baldur's Gate II: Shadows of Amn and Baldur's Gate II: Throne of Bhaal. Bundled with the game on PC and Mac, and available as DLC on iOS and Android, are four diverse new characters, each with their own epic quest. Venture to the distant sands of Zakhara with your new companions, or lead them in a raid upon the home of the gods.

Baldurs Gate: Siege of Dragonspear

Baldur's Gate: Siege of Dragonspear adds a new storyline to the Baldur's Gate: Enhanced Edition saga. The events occurring between Baldur's Gate and Baldur's Gate II are at last revealed in this 25-hour expansion to Baldur's Gate: Enhanced Edition.

Icewind Dale: Enhanced Edition

Originally released in 2000, Icewind Dale is a Dungeons & Dragons game set in Wizards of The Coast's legendary Forgotten Realms.

Planescape: Torment: Enhanced Edition

The original Planescape: Torment was released in 1999 to widespread critical acclaim. It won RPG of the Year from multiple outlets for its unconventional story, characters, and amazing soundtrack. Since then, millions of Planescape: Torment fans have enjoyed exploring the strange and dangerous city of Sigil and surrounding planes through the Nameless One's eyes.

Discover an incredibly rich story and a setting unlike anything else in fantasy. Defeat strange and alien creatures, engage in rich dialogue, and explore the dark and dangerous Planescape setting in this 50+ hour RPG classic.

This is Planescape: Torment like you've never seen before.

Neverwinter Nights: Enhanced Edition

Return to the Forgotten Realms in this bestselling Dungeons & Dragons role-playing game. Combines all the content of Neverwinter Nights Diamond Edition with all-new enhanced features. Includes 100-plus hours of award-winning adventures and the tools to create your own!