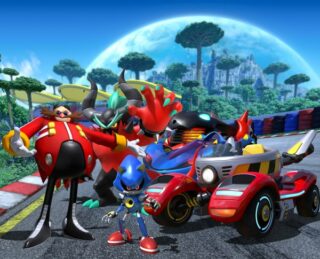 Eggman, Metal Sonic, and Zavok will be playable characters in Team Sonic Racing, Sega announced. The trio make up the game's final team, Team Eggman.
Here is an overview of each character, via Sega:
Eggman [Technique] – Also known as Dr. Ivo Robotnik. He is he main archenemy of Sonic, with a personal goal of achieving world domination.
Metal Sonic [Speed] – One of Eggman's lethal creations, this cold, violent machine aims to prove that he's the better hedgehog between him and the Blue Blur.
Zavok [Heavy] – The leader of the Deadly Six, a demon-like being that continues to battle Sonic and friends whenever the opportunity arises.
Team Sonic Racing is due out for PlayStation 4, Xbox One, Switch, and PC on May 21.
View a higher resolution version of the above artwork at the gallery.