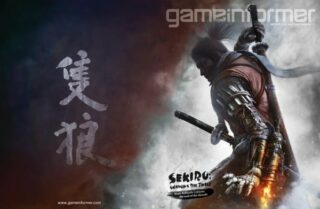 Sekiro: Shadows Die Twice, the upcoming action adventure game from Dark Souls and Bloodborne developer FromSoftware, is Game Informer's February 2019 cover story, the magazine announced.
Here is Game Informer's overview of its magazine coverage:
FromSoftware has been around forever, but is best known for its suite of action RPG games beginning with Demon's Souls. Between Dark Souls titles and Bloodborne, From has explored atmospheric dark fantasy and cosmic horror, and now they head to feudal Japan for Sekiro: Shadows Die Twice. We spent over two hours with the game in Tokyo and picked FromSoftware president Hidetaka Miyazaki's mind to get all the details on the upcoming game, from progression systems to traversal. Check out the cover for the February issue of Game Informer!

Join us to discover what makes Sekiro different from From's suite of existing games as well as why fans of Souls games have a lot to look forward to. The February issue doesn't stop there, and is dedicated to the top games of 2018, including our expansive top 50 list, game of the year award, and our top picks for each category. You'll also find our choices for top dorks, characters, publishers, and more, including an interview with the director of the 1994 Double Dragon movie!
In addition to the magazine coverage, Game Informer will have a month of exclusive online content. The website has already gone up with two stories:
Sekiro: Shadows Die Twice is due out for PlayStation 4, Xbox One, and PC on March 22.
Watch Game Informer's Sekiro: Shadows Die Twice coverage trailer below.