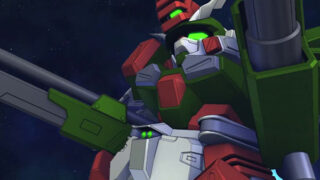 The latest issue of Weekly Famitsu has new information on the recently announced strategy RPG SD Gundam G Generation Cross Rays.
Get the tidbits below.
Cut-ins are being prepared for all scout characters.
Changing Mobile Suits also changes the cockpit, and voice-overs are being prepared for all playable characters.
"What will this character say when piloting this Mobile Suit?" There are scenes that will put smiles on the faces of fans.
Lines characters will say when damaged can also be quite lengthy.
SD Gundam G Generation Genesis was a challenge in terms of how to create full animation with hardware limitations, but SD Gundam G Generation Cross Rays tackles full animation at a volume even greater than Genesis.
From models to animation, Cross Rays is being built from the ground up.
Genesis had some still images and jittery animations, but this time it will be smooth.
Plenty of attack dodging motions are being prepared.
Cross Rays features four main works (Mobile Suit Gundam Wing, Mobile Suit Gundam SEED, Mobile Suit Gundam 00, and Mobile Suit Gundam Iron-Blooded Orphans). While four works might not seem like a lot, an enormous amount of spin-off works are included.
Cross Rays has even more Mobile Suits than Genesis.
There is no scenario where the four works intertwine.
The four series all have popular characters. The development team wanted to convey their charms and choose characters based on their appeal.
The game can be played from any of the four works.
The game's volume is massive, so the development team wants to know when clear it by sharing the fact with them on social media.
SD Gundam G Generation Cross Rays is due out for PlayStation 4, Switch, and PC in 2019 in Japan and Southeast Asia with English text.
Thanks, Ryokutya2089.