Tales of Crestoria News Channel broadcast set for December 14
New content also planned for Tales series' 23rd anniversary live stream.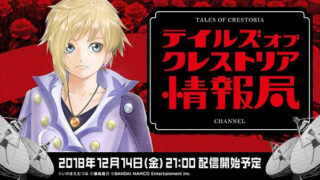 Bandai Namco will host a "Tales of Crestoria News Channel" live stream on December 14 at 21:00 JST, the company announced. You will be able to watch it on YouTube and Periscope.
The live stream will feature a deeper dive into the smartphone RPG's main characters, as well as debut the full version of its concept movie created by Yasutaka Nakata and Kamikaze Douga.
Before that live stream, however, Tales of Crestoria will be featured on the previously announced Tales of series 23rd anniversary live stream on December 8 at 20:00 JST with a reveal of the game's key visual, full story summary text, important keywords, and a new video. You will be able to watch that here.
A release date for Tales of Crestoria has yet to be announced. Pre-registrations for the game have already topped 150,000.