Retro-inspired arena shooter Super Treasure Arena coming to Switch on December 24
Steal coins from your opponents.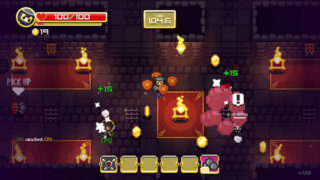 Retro-inspired arena shooter Super Treasure Arena, which first launched for PC (Steam) in September 2016, is coming to Switch via the Nintendo eShop on December 24, publisher Headup Games and developer Vennril announced.
Here is an overview of the game, via Nintendo.com:
Super Treasure Arena is a unique mix of retro-inspired arcade action and objective-based arena shooters for up to four players. The result is a frantic game where collecting and stealing coins from your opponents is the key to victory.

Six thrilling, fantasy-themed maps!
Five playable characters: Warrior, Rogue, Mage, Mystic, and Ninja – each with their own special ability!
Two action-packed game modes!
Supports TV mode, Tabletop mode, and Handheld mode!

Enter the Arena

Choose a character and battle it out on tight top-down maps, filled with angry monsters and shiny loot. Various weapons scattered across each map can be picked up and will help you blasting away your opponents, including bows, magic staffs, bombs, rockets and more!

Classic – Collect coins from monsters and treasure chests, and beat them right back out of your opponents!
Treasure Run – Stay alive while carrying loot-filled treasure chests back to your home
Watch the announcement trailer below.