Project Judge officially titled Judgment, launches in summer 2019 in the west
English voice cast announced.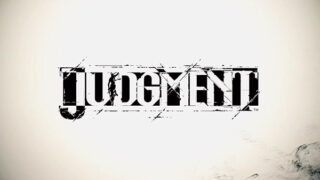 Judgment, previously known as Project Judge (and known in Japan as Judge Eyes: Shinigami no Yuigon) will launch for PlayStation 4 in the Americas and Europe in summer 2019, Sega announced.
In Japan, Judgment will launch on December 13. Two demos, including one featuring the first full chapter of the game, are available now.
The western release of Judgment will feature both English and Japanese voice-overs. The English voice cast includes Greg Chun as protagonist Takayuki Yagami and Joe Zieja as Issei Hoshino. Other supporting actors include Crispin Freeman, Matthew Mercer, Cherami Leigh, Yuri Lowenthal, James Hong, Ed O'Ross, Amy Walker, Matt Yang King, Fred Tatasciore, and Brian McNamara, with guest appearances by SungWon Cho, Cristina Vee, Max Mittelman, and more. Here are more details, via Sega:
Judgment marks the first time in over 12 years that a game set in the Yakuza series universe has received an English dub for its Western release, the last one being the original Yakuza for the PlayStation 2 in 2006. As a result, some extra work was put in to make Judgment's English dub a little more complex than most. We wanted to make sure that we preserve the original Japanese script of Judgment as faithfully as possible. Here's a breakdown of Judgment's dub / subtitle features:

Dual Audio: Players can switch between the Japanese and English voice-over tracks at any point during the game. Experience Judgment using whichever language you prefer!
Dual Subtitles: Subtitles change based on which audio track is selected – Japanese or English. Japanese voice subtitles are presented in a way that represents the traditional Yakuza experience while English voice subtitles match the English script.
Localization Pedigree: Judgment's localization has been handled in-house by SEGA of America's talented Yakuza series localization team.
Watch the announcement trailer below. Visit the official website here.