LoveR details after-school dates, Magical Lumina Photo Sessions
Take the girls out on dates after the school day ends.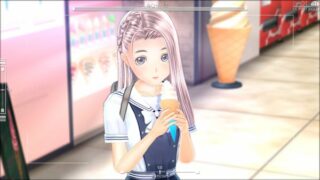 Kadokawa Games has released new information and screenshots for love simulation game LoveR introducing the game's after-school dates and Magical Lumina Photo Sessions.
Get the details below.
■ After-School Dates

In LoveR, if you run into one of the game's heroines after school, you can invite her out on an after-school date. Where you can go on an after-school date varies based on your love level with the girl. You will be able to invite them out to places such as the park or arcade. Since some places require money, you must first make sure you have enough to take her out. You can earn money by taking on part-time jobs after school during the game.

After you invite a girl out, there is a chance you will have a bad encounter with another girl. If you have a bad encounter twice with the same girl while maintaining the same love level, she will get mad and ignore you for a while. Be mindful after the first bad encounter for it not to happen again until your love level with her increases.

On your way to your destination, you and your date will talk while walking your way there. You cannot select topics like you can during "Lovely Days," but you can hear them talk about where you are going and so on.

When you get to the actual date destination, you can view event scenes with the girl. Of course, you will also be able to take photographs.

■ Magical Lumina Photo Session

Magical Lumina is a V-Tuber born from LoveR. But since Magical Lumina herself is not a romance interest in the game, you can freely select clothes and backdrops to take pictures of her from the beginning of the game.

Today, we will look at Photo Sessions of Magical Lumina in her standard costume, as well as in various retailer-specific costumes.

—Magical Dress: Magical Luma's Standard Costume

—Sailor Separate: Amazon Japan Original Bonus Costume

—Tiger Bikini: Joshin Original Bonus Costume

—White Training Leotard: WonderGOO / G-Store Original Bonus Costume

—Full Cover Bloomers: Pre-Order Campaign Bonus Costume
LoveR is due out for PlayStation 4 on February 14, 2019 in Japan.
View the screenshots at the gallery.