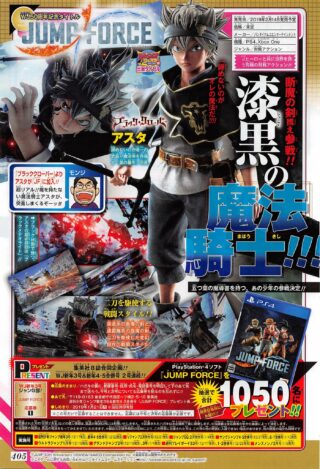 Asta from Black Clover will be playable in Jump Force, the latest issue of Weekly Jump reveals.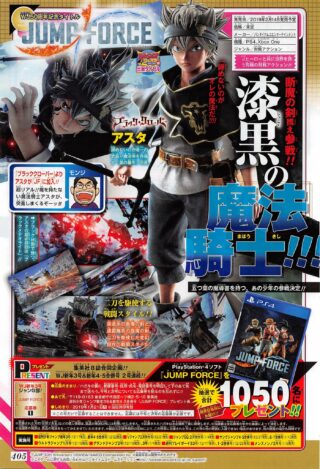 Asta will fight using two battle swords—his rush-type Demon-Slayer Sword and his ranged-type Demon-Dweller Sword.
Jump Force is due out for PlayStation 4 and Xbox One on February 14, 2019 in Japan, and PlayStation 4, Xbox One, and PC on February 15, 2019 in the Americas and Europe.
Thanks, @YonkouProd.
Update 10/14/18 at 7:25 a.m.: Bandai Namco has tweeted the first, square-cropped screenshots of Asta in Jump Force.
Asta, the hyperactive Magic Knight from #BlackClover joins the JUMP FORCE team.
Feel the power of his anti-magic dual demon-swords and switch to his Black form to unleash the dreadful ultimate Black Meteorite!
15 Feb https://t.co/Wvxrgu4pCl#unite2fight #jumpforce pic.twitter.com/X8fuKykNiS

— BANDAI NAMCO Entertainment UK (@BandaiNamcoUK) December 14, 2018
Update 12/14/18 at 4:23 p.m.: View the first non-cropped screenshots here.