Eve: Burst Error sequel Eve: Rebirth Terror announced for PS4, PS Vita [Update]
Visual novel due out in 2019 in Japan.
The latest issue of Weekly Famitsu reveals Eve: Rebirth Terror, a sequel to the 1999-released PC visual novel Eve: Burst Error, for PlayStation 4 and PS Vita. It will launch via publisher El Dia in 2019 in Japan.
The story of the sequel develops from the perspectives of returning Eve: Burst Error protagonists Kojirou Amagi and Marina Houjou. A year after the Burst Error incident, a new incident occurrs.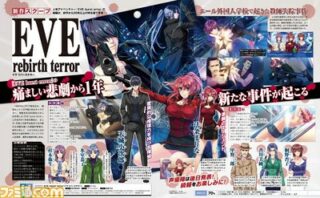 Development is currently 70 percent complete.
Thanks, Famitsu.
Update 12/05/18 at 1:00 a.m.: Eve: Rebirth Terror will cost 8,000 yen on PlayStation 4 and 6,800 yen on PS Vita. A limited edition will also be available for 9,000 yen and 7,800 yen, respectively.
The scenario is being handled by Kasa Sakaki, whose previous works include the Tsuyo Kiss 3 Gakki series, Kin'iro Loveriche, and more. Character design is being handled by Eiri Iwamoto, who is known for the Busta! manga.
Kojirou's story sees an incident occur where a teacher goes missing at Yale International Academy. Marina, on the other hand, is on leave from work and is looking after a young boy. At the same time, she hears that hitmen from overseas are gathering in Japan.
Thanks, Ryokutya2089.