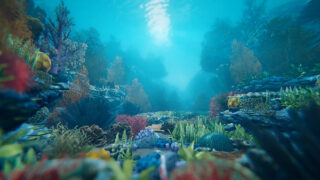 E-Line Media has released a new trailer for Beyond Blue, its upcoming underwater narrative adventure game, revealing the game's atoll region in celebration of the launch of BBC Studios' Blue Planet II on Netflix this week.
Here is an overview of the footage and game, via E-Line Media:
Dive into the game's most beautiful region yet – the atoll – as you get an up-close-and-personal swim-through look at this ringed coral reef, complete with impossibly blue waters and underwater vistas you won't find anywhere else below the waves.

Formed around the rim of an extinct volcano that has largely fallen below sea level, this atoll plays host to a thriving and diverse collection of coral species. Representing one of nature's most awe-inspiring wonders, what can we learn from these naturally-forming bio-diverse microcosms and what secrets could they help us unlock when looking to the future of this blue planet?

Created in partnership with BBC Studios and featuring exclusive, never-before-seen footage from Blue Planet II, Beyond Blue builds upon the foundations set by E-Line's previous BAFTA award-winner, Never Alone. Acting as it's spiritual successor, Beyond Blue offers a compelling gameplay experience, blending a rich story and underwater exploration with resource management, all while drawing upon the knowledge of some of the field's leading ocean experts.
Beyond Blue is due out for "select consoles" and PC in early 2019.
Watch the trailer below.