Warhammer: Vermintide II for PS4 launches December 18
Closed beta begins today.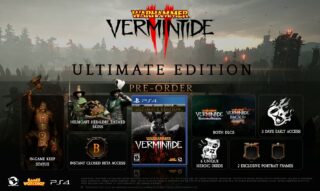 The PlayStation 4 version of Warhammer: Vermintide II will launch on December 18, developer Fatshark announced. Pre-orders are available today via the PlayStation Store.
The "Ultimate Pre-Order Edition" of the game includes:
Four days early access
Instant closed beta access (starts today)
In-game Sigmar Keep statue
Helmgart Heraldry themed skins
Two portrait frame
Six exclusive Heroic Deeds
"Shadows over Bögenhafen" downloadable content
"Back to Übersreik" downloadable content
Here is a brief overview of the game, via Fatshark:
Warhammer: Vermintide II, is a visually stunning and groundbreaking melee action game pushing the boundaries of the first person co-op genre. Set during the apocalyptic End Times of the Warhammer world – the game introduces the dark, bloody and twisted forces of Chaos as an enemy faction. Other new features include 15 hero careers, new environments, talent trees and the proprietary Heroic Deeds System.
Watch a gameplay trailer for the PlayStation 4 version below.