Rumor: Disc-less Xbox One due out in 2019
Reportedly due out alongside "disc-to-digital" program.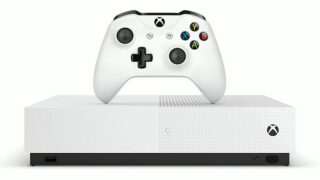 Microsoft will release a disc-less Xbox One console in spring 2019 or earlier, according to a Thurrott report.
The disc-less Xbox One will reportedly ship alongside a "disc-to-digital" program that enables users who own physical discs bring their games to participating retailers to trade in for a digital download.
While the lowest price for an Xbox One is currently $299, the disc-less console is expected to cost $200 or less.
In addition to the disc-less console, Microsoft is reportedly also preparing a revised Xbox One S SKU due out later in 2019. This console will will still have a disc drive and is being made solely for the purpose of cost reduction.
Thurrott clarifies that the disc-less console will not be part of the previously reported "Scarlett" family of Xbox consoles, which includes a traditional local console and a streaming console due out in 2020. Thurrott reported today that Microsoft is still trying to decide if Scarlett will include a disc drive.