Redout: Space Assault pre-alpha gameplay trailer
Tactical space shooter due out in Q1 2019.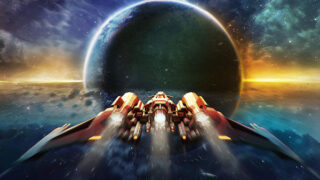 34BigThings has released a pre-alpha gameplay trailer for Redout: Space Assault its June-announced tactical space shooter followup to the original Redout.
Here is an overview of the game, via its Steam page:
The Next Generation Tactical Space Shooter is Coming

Redout: Space Assault puts you in control of a Super Orbital Recon Fighter during the Colonization: outsmart, outmaneuver, overpower, outclass your opponents in lightning-fast, adrenaline-inducing single-player and multiplayer space combat.

Tactical Superiority

Each pilot can potentially turn the tide of battle. Dock your fighter to the larger Corvettes and take control of them: decide how to upgrade and repair their subsystems and move them on the battlefield. Will you go for a full-on attack on the enemy cargos to cut off their supply lines, or will you make sure to defend yours first? Will you gamble your Corvette's hull against the enemy Mothership's defensive turrets, or will you patiently wait for your fighters to take them down before zeroing in for the final blow? Will your be the rogue dogfight ace, the perfect repair support, the Cargo escort, the brave Mothership bomber, the decisive Corvette mastermind? Your call.

Dogfight

Step into the cockpit of your favorite fighter, strategically pick your loadout and get your weapons hot. From assaulting mighty Corvettes, to escorting Cargo ships, shaking combat drones off your tail, engaging furious one-on-one space duels, infiltrating colossal Motherships and destroying them from within: coming with the Redout Hyper-Adrenaline Seal-of-Quality, it's time to challenge your dexterity through another, even more demanding adventure.

Born Multiplayer, Featuring a Story Mode

A single-player Campaign will allow you to experience the struggles of humanity during these dark days, growing in ranks from simple recruit to the best fighter pilot of the Solar System. But Redout: Space Assault was born as a multiplayer experience, so step up and grab your competitive badges to unlock more weapon variety and cosmetic items – colors, liveries, decals.

Key Features

Online multiplayer – compete against the most talented players around the world in the ultimate space challenge.
Career mode – learn every skill you need to survive and triumph in the Redout universe.
A Thriving Universe – exotic locations, grandiose events and epic battles beyond every frontier.
Deep Gameplay – manifest your tactical superiority with a core experience based on strategy and team play.
Bigger weapons – personalize the loadout and enhance your weapons: the ways to increase your power are uncountable.
Upgrade – upgrade your spaceship to fit your style: be the grand master of this universal chess board.
Music for your ears – smashing sound effects with full 5.1 support and a entirely dynamic soundtrack that will drop sicker and sicker beats the tougher the experience gets!

Live the Redout Space Race

AD 2395. Humanity is facing the most perilous, daunting and desperate task in its existence: fleeing Earth. Hundreds of satellites, drones and terraforming robots have been sent to the outskirts of the Solar System. Frantic research has been conducted in the last 150 years. Brave scientists and colonists have taken off towards inhospitable new worlds, often on one-way journeys, to build a new home for humanity. Now, tales of lush green landscapes, rivers and abundant resources run through the void on radio messages, from the Moon to Mars. In an unprecedented conflict with humanity on the brink of chaos, will you side with the brutally disciplined Colonization Fleet, or will you join the cutthroat rebel bands fending off for themselves, looking for freedom among the stars?
Redout: Space Assault is due out for PC in Q1 2019.
Watch the trailer below.