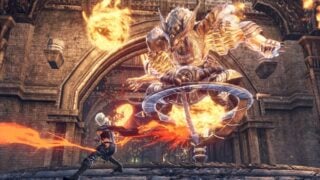 Bandai Namco has shared new information regarding its planned post-launch updates for God Eater 3.
Get the details below.
Additional Character Customization Elements – Hair styles, accessories, and clothing will be added via update(s).
Assault Mission Update(s) – Depending on gameplay status after launch, additional features will be added via update(s).
Additional Side Missions – Additional side missions will be added via update(s). System-level additions are also being considered.
Action and Usability Improvements – Action and usability improvements will be implemented even after launch.
Other Updates

While keeping in communication with players, we would like to continue development to make the game more enjoyable even after launch.
In addition to the updates mentioned above, various other additional elements are being considered—possibly even story and new enemy additions, or additional ally non-player characters.
Once the scheduling and details have been decided, they will be announced in due course.
God Eater 3 is due out for PlayStation 4 on December 13, 2018 and PC on February 8, 2019 in Japan, and for PlayStation 4 and PC on February 8, 2019 in the Americas and Europe. A new demo launched in Japan today.
Thanks, Games Talk.